The Ultimate Storage Experience with our Safe & Modern Facility Without The Hefty Price
How Secure Storage System Works
Furniture, Personal Effects
and Office Storage
Storage solutions from as little as $15 a week!
Whether you need storage because you are moving internationally, locally or just need more space at home, we will be able to provide the best solution
for you. We can provide packing, moving and secure storage services that are affordable and safe. No matter the duration of your storage requirements,
we can provide weekly, monthly or even yearly packages to suit your needs
Simpler, Safer and almost 40% Cheaper than Self Storage!
Putting your beloved possessions into storage, to be looked after by someone else, can be quite worrying. You don't need to be always wondering if your belongings are really safe and secure.
That's why we offer a storage solution that is not only better managed, but easier and more affordable than self storage. You will be amazed by our low rates – affordability does not mean that we cut back or compromise the safety or security of your belongings. You can leave your belongings with us with confidence because we protect them 24/7 with our Secure Storage System.
Firstly, our professional, highly trained packers will come to your home to carefully and very skillfully pack your belongings using international standard packing materials and boxes specifically made to protect your furniture and personal effects. We will load your goods directly into our storage containers, avoiding double-handling and reducing the risk of damage in transit and in storage.
Your goods are then stored in our secure warehouse facilities that prevent unauthorized access, and are 24/7 security and fire monitored. Then, when you need your belongings back, we can redeliver them locally or even ship them anywhere in the world that you require.
Why choose CM Relocation for your storage needs?
CM provides safe and secure warehousing and storage solutions at affordable pricing. Choosing us to handle your storage will mean a single point of contact for collection, packing, delivery or possible future shipping of your belongings.
We will provide an inventory, collection order and offer easy recording and tracking of whats in storage.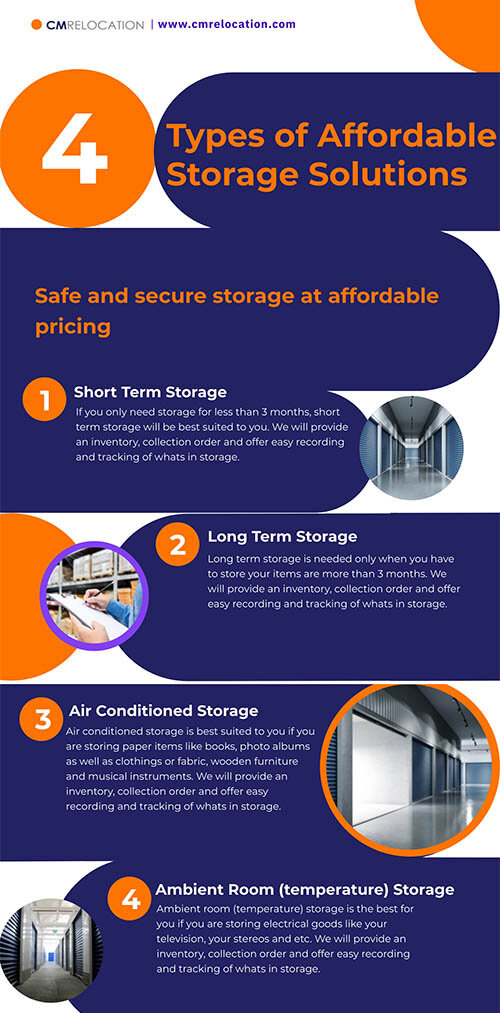 Secure, Reliable, and Efficient Door-to-Door Storage and Relocation Services in Singapore
CM relocation has to be your one stop shop if you are looking to move. As a family moving from Spore to Perth our biggest decision was to find someone we could trust with all our possessions. There were no disappointments at all . A big thank you to these guys! I will definitely be using them again and recommending friends and family.
We moved back to Sydney in September 2019. After assessing all major removalists, we opted for CM relocation as they were more attentive to our needs and provided quick feedback. They made our move very seamless and kept us informed of relevant updates, even when our stuff was already at the Sydney port.
Both the sales department and the movers are very good. Punctual and competitive prices. Great experience! I would highly recommend them!
We Will Contact You Back Within 24 Hours​